Happy Friday of a long weekend!
Don't forget to head over to Misha's blog to see what she's loving this week.
We would love for you to join us!
Leave a comment with a link to your post and we'll see what you're loving.
o n e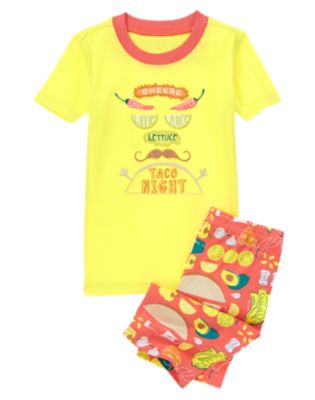 I can't get over these pajamas. My mom and I popped into the Gymboree sale this past weekend and I had to have these pjs for Crosby. I honestly would have bought them for Kenley if they would've had her size. The only size they had were 2T, so it'll be a little while before Crosby can wear them; and let's be serious, I would wear these pjs if they came in my size. We love tacos in the Gilbertson household.
t w o
I've been loving this song this week. The video is slightly cheesy, but the song is fun.
Do people still watch music videos?
Fun fact: I met Dierks Bentley when he played at the Bluebird in Bloomington my sophomore year.
t h r e e
I got a promo code in the mail this week for a free set of circle labels from Tiny Prints. I'm not sure why I got it, but if it's free, it's for me! These are the ones I chose, which I'm sure it's NOT surprising since you all know how much I love stripes and bright colored things. I've never used Tiny Prints before, so I'm anxious to see how they turn out.
f o u r
It was a good week for snail mail. I got this fun surprise in the mail last night.
VIP baby!
***
Happy long weekend and a very happy Memorial Day!